Well, it's almost time… 'Camp' Camp 2013 is just a few days away! We're hosting a sold-out crowd of 242 people from all over the country, plus Hungary and the U.K., each of them ready to have the best time ever! Thirty-eight of this year's Campers have been with us for an unbelievable 10 years or more, including this year's 15th-Year Campers, Cheryl S. of Medford, MA, Phil C. of Quincy, MA, and Vicki H. of Ann Arbor, MI. This year, we will again be continuing our (recent) tradition of donating $100 in each of their names to the It Gets Better Project in honor of their noteworthy Camp anniversary.
Last year, we stepped up our efforts to support the GLBT community even further with our new "Camp Gives Back" campaign. With this campaign, we are donating 10% of our Camp Store sales each year to an organization benefitting the GLBT community. Last year, we were able to donate almost $1100 to Mainers United for Marriage, one of the organizations instrumental in helping Maine make history last November when they became the first state in the country to pass marriage equality by voter referendum. Yay, Maine!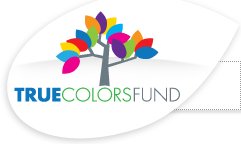 This year, we have chosen The True Colors Fund as the recipient of our "Camp Gives Back" campaign. The True Colors Fund was co-founded in 2008 by musician Cyndi Lauper and, through their Give a Damn Campaign, aims to inspire and engage everyone, especially straight people, to become active participants in the advancement of equality for all. Their Forty to None Project helps to raise awareness about and bring an end to GLBT youth homeless. Both worthy causes, don't you think?
Those of you who will be attending Camp next week can help the True Colors Fund in their efforts by just buying an extra Camp t-shirt or souvenir or two (or three) in the Camp Store. You'll also be able to make additional donations to True Colors via your Cashless 'Camp' Camp account. If you aren't able to attend Camp this summer, we suggest popping over to the True Colors Fund and making a donation. Being a teenager is difficult enough, yet each year between 500,000 and 1.6 million youth find themselves homeless in America. As many as 40% of these youth find themselves homeless because of their sexual orientation or gender identity. Camp hopes our efforts will help at least a little in raising awareness of their plight and getting some of these kids the assistance, education, and empowerment they deserve.  We encourage you to join us – and make a donation today.