Over the past 16 years, it has become obvious that 'Camp' Camp is much more than a super-fun, unique GLBT vacation. Camp has evolved into a wonderfully fun, ongoing, supportive community of gay, lesbian, bisexual and transgender folks from all over the U.S. We are proud of – and extremely grateful for – this aspect of 'Camp' Camp. The supportive environment fostered at Camp makes it easy for people to step out of their comfort zone each day, accomplishing things they never thought possible. We have felt for some time that it's important for Camp to try to share that kind of positive energy and give back to the GBLT community however we can. Well, now we will…
We began our efforts to return some of that great Camp energy and support to the GLBT community-at-large last year, our 15th Anniversary season. Instead of presenting last year's two 15th-Year Campers with yet another anniversary gift emblazoned with the Camp logo (5th-Year Campers receive Camp blankets and 10th-Year Campers receive Camp wheeled duffle bags), we donated $100 in each of their names to the It Gets Better Project. And we will be doing the same again this year: $200 will again be donated to the It Gets Better Project, $100 each for Michele G. of Providence, RI and Lisa D. of Reading, MA, this year's 15th-Year Campers.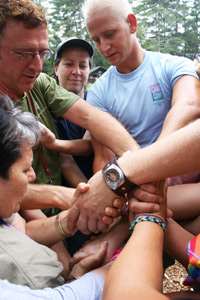 Additionally, beginning this year, we are stepping up our giving back even further with our new "Camp Gives Back" campaign. Each year going forward, we will be choosing one charitable or political organization benefitting the GLBT community and donating 10% of our Camp Store sales to that organization. We will also make it easy for our Campers & Staff to donate additional funds to the chosen organization through our Camp Store, as well. Yes, we operate on the proverbial shoestring budget and our Camp Store certainly doesn't have sales in the tens of thousands of dollars, so we know any donation that we make will be modest, at best. But, this is one small way that we can further support the GLBT community-at-large that all of our wonderful Campers & Staff are part of.
We are pleased to announce that we have chosen Mainers United for Marriage to receive our campaign's inaugural year donation. 'Camp' Camp has been held in Maine since our very first year in 1997 – and we love Maine! It's a beautiful state with friendly, welcoming people who have always made us feel at home. In 2009, Maine was the first state to pass a same-sex marriage law through the legislature and have it signed by the governor, only to have opponents of the law overturn it by a mere 30,000 votes.
Well, earlier this year, Mainers United for Marriage gathered over 105,000 signatures to bring a pro-marriage Citizens Initiative to the ballot this November. Additionally, the most recent polls of likely 2012 voters in Maine show a 54% support for marriage equality, making Maine the first state ever to begin a marriage equality campaign with a majority of support. In short, Maine could make history this November and turn the tide for marriage equality across the country! So, we would like to do whatever we can to help them in their efforts.
Those of you who will be attending Camp next month can help Mainers United for Marriage in their efforts by just buying an extra Camp t-shirt or souvenir or two (or three) in the Camp Store. If you aren't able to attend Camp this summer, we suggest just popping over to the Mainers United for Marriage website and making a small donation. We can all be part of history, helping to ensure that gay & lesbian relationships in Maine – and possibly even all across the country – finally get all the rights, benefits and recognition they deserve.