Let nature inspire you while you enjoy a variety of traditional summer camp arts & crafts—and unearth your hidden creativity. Whether your creative side has been buried or is just waiting to be unleashed, you'll find something to spark your imagination and (re)discover the joy of artistic expression.
arts & crafts
Art: Art Without Anxiety Come relax, rejuvenate, and re-learn the art of play by playing with art. This process-oriented fun class is for all skill levels and will help you explore your inner creativity, express yourself freely, and experience the joy of making art free from judgment, rules, and end product expectations. Each day's class will offer different activities, projects, and various mediums from pencil to paint and every thing in-between. Will you be tested? No! Will you be bored? No! Will you have fun? Absolutely!!
Art: Block Printing This fun class utilizes easy-to-cut rubber blocks to create unique monochrome and two-color prints on paper. Learn how to make art prints or greeting cards using a relief block printing method where you can be as simple or detailed with the image and carving as you want. It's all up to you!
Art: Creative Collage Collage is an artwork made of various materials such as paper, cloth or magazine images glued on a surface with embellishments added. Explore great ways to create fresh collages with a focus on building a story and surface and then aging your collage for a unifying look and how to incorporate drawing, painting, smudging, and stamping. Collage art is full of potential and limitless possibilities in materials, themes, compositions, and expression. Discover your inner artist in this fun and forgiving technique.
Art: Figure Drawing Explore the magic of expressing yourself through drawing the human figure. Designed as an outlet of expression through drawing and not a measure of how well you can draw, the class will offer fun for the novice or advanced artist and will include instruction, a series of timed poses, and a little bit of gentle feedback.
Art: Mandalas Come create your own mandala that symbolizes what you need to remember in this moment of your life. Through guided meditation and centering music, explore your inner voice and allow it to inform the design you create. Then relax in quiet meditative contemplation of coloring, painting, and collaging your own mandalas. No matter your experience level, you may be surprised at what emerges when you allow yourself to relax into creative flow.
Art: Oil Painting Let the Camp landscape be your inspiration as you utilize small canvases & oil paints to tap into your inner Monet. You'll learn the oil painting process step by step, including the mixing of colors, underpainting, adding glazes, and scumbling. Though a great class for beginners, all skill levels are welcome. And no matter your skill level, you will have a Camp-inspired piece to take home with you by the end of class!
Art: Wire Art See what you can learn from wire's lessons in flexibility and holding shapes. This unique class will explore how wire can be bent and formed into designs, words, and images. Whether it's learning how to sculpt a face from one piece of wire or exploring how to create your own sculpture, design, or message to hang on your wall to remind you every day of your intention in life, this class is the perfect way to create your own unique Camp souvenir!
Blacksmithing Come try your hand at Blacksmithing at our forge where you'll learn the basics of forging hot metal, including bending, twisting, tapering, and scrollwork. This is a rare opportunity to create a unique (very butch!) souvenir to show off to all your friends back home!
Beauty Parlour Join Princess (Camp's resident semi-experienced drag queen) for some pointers and instruction on everything from frocks to make-up. Why, she'll even help you plan a fabulous outfit for the Tea Dance on Thursday. A perfect way to unleash that inner (Drag) King or Queen you've always known – or suspected – was inside you!
Broadway Dance Ever dreamt of dancing in a big Broadway show? Well, here's your chance, 'Camp' Camp style! In this three-part class, you'll learn a choreographed dance to share to thunderous applause at Friday night's big Talent/No Talent Show.
Cooking Classes Our Cooking Studio hosts some of our Campers' favorite classes! Whether you're a novice in desperate need of some culinary skills or an experienced cook looking to learn a new recipe or two, you'll find something to interest you in one of our fun & informative Cooking Classes. Past offerings include The Israeli Grill, Mamère's Bayou Kitchen, Vegetarian Cooking, Street Foods, Three-Course Mexican Dinner, Cake Decorating, Thai Made Simple, Healthy Alternatives, From Bubbe's Kitchen (Eastern European Jewish Cooking), and Grilling: Beer Butt Chicken, as well as dessert and cheese- and pasta-making classes.
Dance Do you ever watch Dancing With the Stars and imagine yourself up there on stage? Or maybe you dream of twirling your true love around the kitchen in a beautiful waltz or just being less awkward on the dance floor at your cousin's wedding? Even if you're convinced you have two left feet, Camp's Dance Instructor will show you otherwise covering a number of the most popular social couple dances throughout the week including waltz, fox-trot, tango, cha-cha, rumba, two-step, and swing – all in a fun, non-intimidating environment. You can learn to lead, or follow, or both. Partner dancing is social, flirty, great exercise, andgood for your brain!
Digital Photography Learn how to get the most out of your digital camera equipment. The class includes an introduction to common camera features, basic concepts of composition and lighting, and lots of tips & tricks. Learn the basics, then capture the beauty of Camp during an afternoon Photo Walk!
Guitar Have you always wanted to learn the guitar, but you've been afraid to invest in one without first giving it a try? Or maybe that guitar you bought years ago has just been sitting in a corner gathering dust? Well, no matter your skill level, Camp's professional guitar teacher will have you strumming away (again) in no time! We have a limited number of guitars available for group guitar lessons, so not having yours with you is no excuse – give it a try or refresh & improve your skills.
Jewelry Get creative! Learn silver-smithing and create a gorgeous souvenir ring for you or a friend or even impress everyone with a pendant that you design and make yourself! Why, you can even pick up a 'Camp' Camp logo charm in the Camp Store and use it to create your own one-of-a-kind piece of Camp jewelry.
Knitting & Crocheting 'Camp' Camp's knitting craze continues! Learn to knit and crochet – or add to your skills. Structured like a knitting club, each session will have a specific focus, but those who want to work on their own projects – or just "spin yarns" – are welcome anytime. …Warning: yarn can be highly addictive!
LGBT History Join your fellow Campers for an interactive & engaging experience exploring various topics essential to understanding the LGBTQ community's place in and contribution to history. Focusing on the culture, events, and people from three historical periods – before, during, and after Stonewall – you'll return home with a greater appreciation of our community's legacy and your part in it.
LGBT History: Spotlight on '70's Sisterhood Regardless of your gender or when you came of age, chances are that trends that women built in the 1970s have had an impact on your point of view. Let's talk about it! We'll revisit conversations among women that provided inspiration and impetus for social change, and proof that "Sisterhood is Powerful." Let feminist poems and lyrics take you to a time when women had to start their own presses and their own record labels in order to be heard at all – when bookstores, conferences, festivals, and pot-lucks brought women together to come out, share ideas, and organize for change in intersecting aspects of public and private life.
LGBT History: Today's Trans Kids What does genderqueer mean? If you're transgender, does that mean you're gay? One of Camp's founding members, Jeff Perrotti, works with schools, camps, and families to foster resilience and positive outcomes for LGBTQ youth. The co-author of the book, When the Drama Club is Not Enough, Jeff also runs a camp for student leaders – complete with buddy bags, bandanas, and rainbow groups! Join Jeff for a discussion of his work and ways we can all support LGBTQ youth.
Mindfulness Meditation Join us to learn to meditate or deepen an existing practice. Participants will explore mindfulness meditation through discussion, exercises, and various meditative techniques. Meditation is simply training the mind to pay attention in a sustained fashion, without judgment or reactivity, in order to build ongoing awareness. That awareness can transform everyday life, making us calmer, more engaged and less reactive. The focus will be on both sitting meditation and informal practice in everyday life. The slower pace of life at Camp provides an ideal backdrop for such informal practice. Classes will include fun "homework" assignments intended to facilitate mindfulness during Camp activities.
Model Rockets & Saucers Come build your very own model rocket or flying saucer projected to go up to 600 feet in the air! Camp's resident, real-life rocket scientist will lead you through the step-by-step process of creating your very own air projectile in anticipation of the official rocket launching ceremony on Friday afternoon!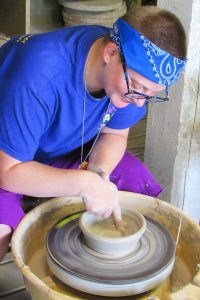 Pottery Get muddy as you explore your creative side! Enjoy wheel-throwing or hand-building down at our open-air Pottery Studio with its fantastic view of the lake and take home your very own high-fire stoneware clay creation. What could be better?
Stained Glass Choose a design or draw your own, then learn the techniques used to cut and solder colored glass to make a sun-catching gift for someone or to put in a favorite window. One of 'Camp' Camp's most popular activities!
Theatre: Improv/Theatre Games This fun & unique class utilizes theatre games, movement, voice, and improvisation exercises to help you create original characters and scenes. Though an excellent resource for actors, comedians, writers, and singers, the class is also perfect for those with little or no performance experience who are looking to explore performing. Just bring an open mind, a little bit of silly, and a real sense of play.
Theatre: Shakespeare's Naughty Bits Come read, discuss, and, yes, even stage some of Shakespeare's bawdiest and most outrageous moments – Jealousy! Revenge! Violence! Horny hotties aching to lose it! Lascivious horn-dogs carousing for a good time! – that are sure to be the ultimate cure for those 9th grade English classes that put you to sleep. From devastating put-downs to oodles & oodles of jokes about genitalia, boobies, and bodily functions, you'll definitely get a serious lesson in Slinging Some Shakespearean Shade. …Fan or Foe of the Bard, be prepared to laugh your Elizabethan butt off!
Theatre: Spoken Wordshop "Let the words be your guide…" Join our theatre instructor for an exploration of techniques for presenting text from any source with confidence, simplicity and passion. Though some samples will be provided, please feel free to bring and share your favorite prose, poetry, original work, and/or text from any source. The workshop will include both direct coaching and feedback from participants.
Tie-Dye Your imagination is your only limit to a colorful and creative Camp souvenir in this traditional summer-camp craft. Learn how to show off your artistic skills by turning a white or light-colored fabric-based item into a colorful, one-of-a-kind work of art. …Can you say psychedelic?
Writing Contrary to what you might think, EVERYONE can be a writer …and this is your chance! Whether you drop in for a day or two or spend the whole week writing, you'll learn how to get thoughts and words onto paper, then share your work in a positive, reaffirming setting. Try it, and you might be surprised at what you can do!
Zentangle Zentangle is a way of creating beautiful images from repetitive patterns that is enjoyed all over the world across a wide range of skills, interests and ages. Fun and relaxing, almost anyone can use Zentangle to create beautiful images, increasing your focus and creativity while providing artistic satisfaction and an increased sense of personal well being. …Anything is possible one stroke at a time.