It is with a heavy heart that we note the tragic passing of one of our Campers, Brittany James. Brittany  passed away unexpectedly on Monday, November 9 at the too-young age of 37.  Though she was only able to join us for one summer back in 2013, Brittany loved Camp and her spirit inspired us all as we watched her blossom during her week at 'Camp' Camp.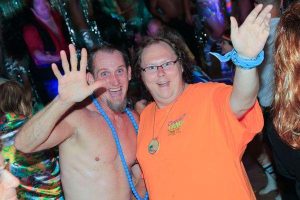 This is one of our favorite pictures of Brittany from her week at Camp, taken during "54!", our disco-inspired evening event from Camp 2013 with her best Camp pal, Darin, our Dining Hall Manager.  As Darin posted soon after her untimely passing: "What an honor it was to get to know such a special person.  My heart is breaking for her family.  I hope she finds the peace that she deserves.  My second year at Camp will always be the most meaningful. Brittany was the reason for that!!"
We have established a special memorial fund in Brittany's honor as part of our Campership Fund. We will earmark all donations made in Brittany's name for a special Campership Fund only to be awarded to a transgender individual.  If enough funds are collected, some lucky first-time transgender Camper will get to experience the spirit & camaraderie of 'Camp' Camp that meant so much to Brittany, all for free.  Details on applying for this special Campership will be available sometime this spring.
To make a donation in Brittany's name, you may either send us a check (payable to 'Camp' Camp) with "Brittany James Memorial" in the memo line – or you can make a donation online with a credit/debit card by clicking here.  If you pay via the website, we just ask that you also email us and let us know where to allocate your payment since our online payment portal doesn't offer any sort of memo field.
Rest in Peace, sweet Brittany. You will be missed.