Our first-year Campers always tell us the one thing that surprises them most about Camp is "the people". And when we ask our returning Campers why they return to Camp, we always get that very same answer. Well, those people who seem to be such a big part of what makes Camp a best-time-ever week don't just come from a few places. Since Camp's first year 19 summer ago, LGBT folks from across the U.S. – and, indeed, around the world – have converged on a green, shimmering-lakeside, pine-scented summer camp in rural southwestern Maine to experience the most unique LGBT vacation in the country, with many of them returning year after year.
'Camp' Camp 2015 – our 19th crazy-amazing summer – is definitely shaping up to be another fun week of fun, laughter & great new friends, with Campers & Staff arriving from 29 different states in the U.S., as well as Puerto Rico, two different provinces in Canada, Australia, and the U.K. As of July 10, the 195 Campers & Staff confirmed to join us this summer call the following cities home:
Ann Arbor, MI (3)
Apex, NC
Aptos, CA (2)
Arlington, VA
Atlanta, GA (2)
Austin, TX
Bailey Island, ME (2)
Bath, ME
Bayonne, NJ
Bedford, NH
Birdsboro, PA
Bolton, CT
Boston, MA
Brewster, MA
Brick, NJ
Brick, NJ
Brighton, MA (2)
Bronx, NY
Brookline, NH
Brooklyn, NY (12)
Buda, TX
Byford, Western Australia
Caldwell, NJ
Calgary, AB
Cambridge, MA (4)
Charlotte, NC
Charlton, MA
Chelsea, MA
Chicago, IL (4)
Cincinnati, OH
Claremont, NH
Colrain, MA
Columbus, OH
Concord, MA
Cuyahoga Falls, OH
Dallas, TX (2)
Decatur, GA
Del Mar, CA
Deptford, NJ (2)
Dorchester, MA
Dover, NH
Durham, NC (2)
East Boston, MA
Edison, NJ
Edmonton, AB
Elkins, AR
Entiat, WA
Exeter, NH
Falls Church, VA
Florence, MA
Fort Bragg, CA
Frankford, DE
Galveston, TX
Greensboro, NC
Hamden, CT
Harrisburg, PA
Holden, ME (2)
Holland, MI (2)
Hollis, ME
Holyoke, MA
Hyde Park, MA
Jackson, MS
Jamaica Plain, MA
Jersey City, NJ
Key West, FL
Knoxville, MD
Lafayette, IN
Las Vegas, NV
Lawndale, CA
Lexington, KY
Limerick, ME
Lincoln, RI
London, UK (2)
Long Beach, CA (2)
Los Angeles, CA (2)
Lowell, MA (2)
Malden, MA (2)
Marlborough, MA
Medford, MA (3)
Montreal, QC (2)
New Orleans, LA (3)
New York, NY (6)
Newark, DE
North Eastham, MA
Norwich, CT
Oakland, CA (2)
Orlando, FL (3)
Pensacola, FL
Philadelphia, PA (2)
Plymouth Meeting, PA
Portland, ME
Provincetown, MA
Quincy, MA (2)
Raleigh, NC (3)
Randolph, MA
Remsen, NY
Richardson, TX
Rio Piedras, PR
Rio Rancho, NM
Riverdale, NY
Roslindale, MA (2)
Royal Palm Beach, FL
Salem, MA
San Francisco, CA
Santa Monica, CA
Scarborough, ME
Scituate, MA
Silver Spring, MD
Slaughter, LA (2)
St. Petersburg, FL (2)
Tacoma, WA
Tampa, FL (2)
Topsham, ME (2)
Tucson, AZ
Tukwila, WA (2)
Utica, NY
Valley Village, CA
Virginia Beach, VA
Wallingford, CT
Washington, DC (4)
Watertown, MA
Wellington, FL
West Roxbury, MA (2)
Wilbraham, MA
Williamstown, PA
Woodland Hills, CA
Wyoming, MI
Yonkers, NY (2)
Ypsilanti, MI (5)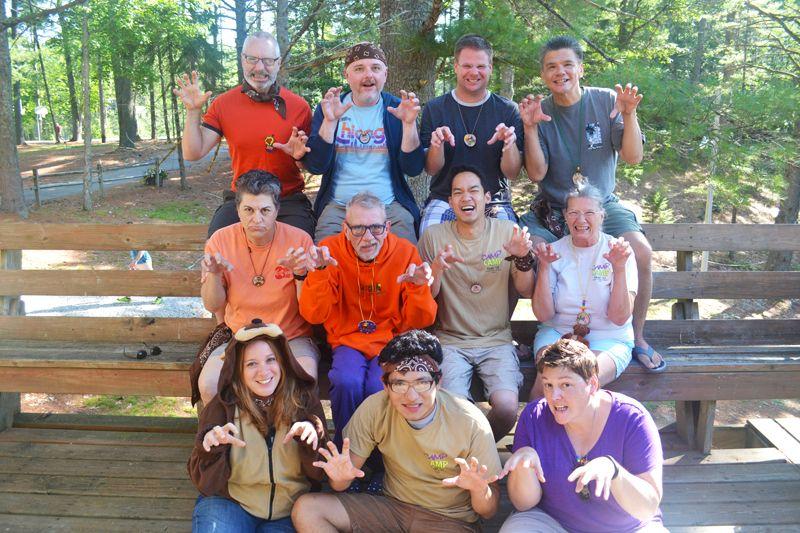 We love that folks come from all over the planet to frolic in Maine each August. If your hometown isn't on the list, you really need to change that by registering today and discovering for yourself why our Campers say 'Camp' Camp is the best time ever!