Planning a vacation takes time and research, and vacations can be pricey. We all try to get the biggest bang for our buck when spending our hard-earned money. As a member of the LGBTQ community, I want to get away, not think about everyday life, and not talk about the political climate if I don't want to. This is why I continue to choose 'Camp' Camp. Camp's value isn't just a monetary one. It's really in the experience and the camaraderie. And the bonus is that I don't have to plan a thing: they do it all for me!
We all know there are a wide variety of options out there when it comes to LGBTQ vacations. One can visit Provincetown, take a gay or lesbian cruise, or visit a resort that caters to gays or lesbians (at 'Camp' Camp I value the friendships I have with everyone, no matter how they identify). I personally know all these things exist. I've researched the cost of those I didn't eventually experience firsthand and realized – sometimes the hard way – that many of them have hidden costs when you factor in everyday expenses. Which is why I continue to find 'Camp' Camp is not only the best bang for my buck but also the most rewarding LGBTQ vacation I have ever had by far.
Some people might experience sticker stock when they see a week at 'Camp' Camp costs $1675. But I quickly found the price is more than worth it. For one thing, it's all-inclusive. Once I show up at Camp, I have a place to stay (a rustic cabin with a basic bathroom shared with a bunch of strangers who become instant friends), my meals are provided (vegan and gluten free options available), and every day I have over 30 activities to choose from (or I can choose to do nothing but hang out at the waterfront if I want). When I add in all the intangible parts of the week – the amazing friends I've made, all the laughter that happens – the value skyrockets (By the way, you can actually make and launch a rocket at Camp!)
My first year at Camp was back in 2011. I flew from Cincinnati, Ohio to vacation alone at this LGBT summer camp I found online. I chose Camp mostly because I was newly single (again), had vacation time to use (since I certainly wasn't going anywhere with my ex), and I valued my previous summer camp experiences as both a camper and staff person. So I packed my bags and soon found myself off to Maine, knowing no one.
I land in Portland, Maine (such a tiny airport!) and begin looking for the van I'd been promised would shuttle me to Camp. I collect my bags and step outside where I find the 'Camp' Camp people hanging out in the grass across the way waiting on the next van. I head towards the crowd of Campers, since I certainly can't afford to change my mind now.
Once at the van, I'm instantly welcomed. People want to know about me and share their stories in return. We talk the entire way to Camp, and when I arrive I'm greeted again by smiling Camp Staff at the van, someone helps me with my luggage… and the magic began!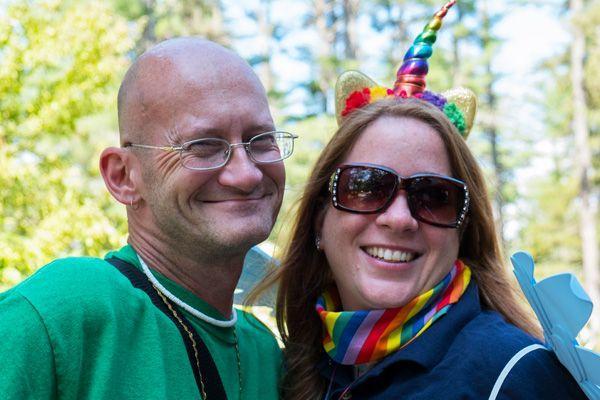 I'm not a shy person, but, as I was surrounded by nearly 250 strangers, I initially took the role of observer to see where I fit in. But the second night at Camp was the annual Barn Dance which could not have come at a better time. I didn't need a partner, just the willingness to try something new. Nearly two hours and multiple dance partners later, my face hurt from smiling so much. That perfectly timed ice breaker at the beginning of the week continues to be my favorite 'Camp' Camp activity.
As the week evolved, I found myself trying new things and making incredible connections. I enjoyed yoga, stained glass, pottery, delicious vegan meals, campfires, dancing, and more. In fact, Camp was so unexpectedly welcoming, I found myself able to step out of my comfort zone and join the Broadway Dance class where 25 strangers were transformed into a dance troupe that performed in Friday's Talent/No Talent Show.
Seven summers after I first came to Camp, the activities, friendships, and overall experience of 'Camp' Camp continue to make Camp the best vacation I've ever found – and one I'll continue to choose year after year. My suggestion? Look past any hesitations that Camp's price tag might initially cause, and look at the value of forming unconditional friendships and a chosen family instead. Or consider joining Camp's Staff if the full registration fee simply doesn't fit your budget, because, trust me, you want some 'Camp' Camp in your life!
Mary Beth King currently serves as Camp's Assistant Director. To read more about Mary Beth and the rest of our Executive Staff, click here.