Wow! This summer has flown by… We can't believe that 'Camp' Camp 2015 is less than two weeks away! Very soon, approximately 215 people from across the U.S., plus Canada, Australia, and the U.K. will be converging on a summer camp in southwestern Maine ready to dive in to another best-time-ever week of summer camp activities, fun evening social events, and smiles & laughter with new friends. Forty-six of this year's Campers have been with us for an unbelievable 10 years or more, including this year's 15th-Year Campers: Nick D. of Caldwell, NJ, Jes Q. of Bedford, NH, David K. of New York, NY, Char P. of Provincetown, MA, Ann G. of Topsham, ME, and Mark "Princess" C. of Atlanta, GA. We will be donating $100 in each of their names to the It Gets Better Project in honor of their noteworthy Camp anniversary, a tradition we began since instituting our Camp Gives Back campaign three years ago.
Each summer, our "Camp Gives Back" campaign also recognizes and supports an organization that serves the LGBT community via a combination of donations from our Campers & Staff and a pledge of 10% of our Camp Store sales. Past beneficiaries of the campaign include Mainers United for Marriage ($1100 raised in 2012), Cyndi Lauper's True Colors Fund ($1435 raised in 2013), and, last year's recipient, SAGE (Services and Advocacy for GLBT Elders) ($1888).
In recognition of our commitment to welcome, embrace, and support all members of the LGBT community, we are pleased to announce that Camp Aranu'tiq, a New Hampshire-based summer camp program serving transgender & gender-variant youth and their families, is the beneficiary of this summer's Camp Gives Back campaign. Camp Aranu'tiq (pronounced "Ar-a-NOO-tick") w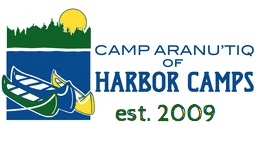 as founded in 2009 and currently serves over 400 campers over the course of the year via their flagship summer camps in New Hampshire and California, as well leadership programs for older teens and weekend family camps. (Camp Aranu'tiq is just one of several programs run by Harbor Camps, a non-profit organization that provides camps for youth and families of populations that may often feel marginalized.) We know first-hand the supportive and encouraging community that can develop around a summer camp experience, so we are thrilled to support Camp Aranu'tiq in their efforts to provide such an important & amazing experience to transgender & gender-variant youth from across the country.
If you are attending Camp this summer, you can help support Camp Aranu'tiq by just buying an extra Camp t-shirt or souvenir or two (or three) in the Camp Store. You'll also be able to make additional donations to Aranu'tiq via your Cashless 'Camp' Camp account. If you aren't able to join us this summer, we suggest that you pop over to Harbor Camp's website and make a donation. (Be sure to note that you were referred by 'Camp' Camp.)
Aranu'tiq is a chugach (Yup'ik, an Indigenous people of Alaska) word for a person who was thought to embody both the male and female spirit. Aranu'tiq people were often revered and thought to be very lucky because their existence transcended traditional boundaries. Unfortunately, in today's society, transgender & gender-variant youth are often bullied, ridiculed, and made to feel less-than. We encourage you to join us in supporting Camp Aranu'tiq in providing an invaluable experience that helps these youth maintain a sense of worth and belonging by making a donation today.