Leave your real-world notions of dress and decorum behind – and re-discover yourself in the process. Whether it's our Tea Dance, the Talent/No Talent Show, a Lip-Sync Throwdown or another of our fun and entertaining evening social events, evenings at Camp offer additional opportunities to let yourself come out and play in ways that just might surprise you.
evening social events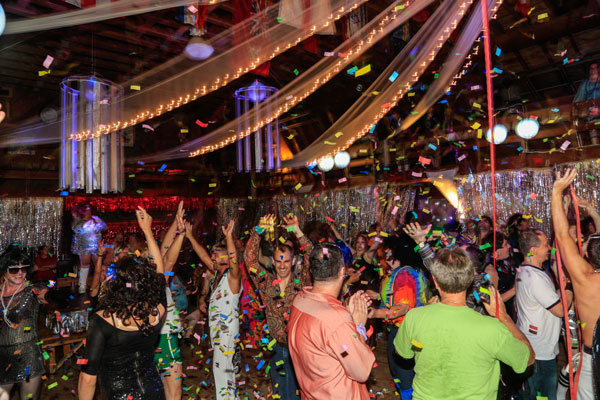 54! Its reputation is legendary – and almost as big as the bell-bottoms and platform shoes you'd find inside! Hustle on down to Camp's take on New York's legendary nightclub Studio 54. Once past the velvet ropes (grab the bouncers' attention and get to the front of the line!), you can enjoy a few glasses of bubbly, hob-knob with "celebrities," and boogie down to disco tunes both popular and obscure. Even if you still wear that ratty ol' "Disco Sucks" t-shirt, you won't want to miss the surprises and sparkly spectacle in store at one of Camp's most extravagant events ever!
Activity Fair & Ice Cream Social Get the skinny on the week's activities during this fun & informative event your first night at Camp. Short & sweet – and followed by buckets & buckets of ice cream with all your favorite toppings! Activity leaders will be available to answer all your questions.
Barn Dance You just can't keep a good ho' down! Greet old friends and make new ones at one of our most popular annual events, offering fun & laughter to klutzes and twinkle-toes alike – and featuring live music by award-winning New Hampshire-based callers Jacqueline & Dudley Laufman (and friends)! The Laufmans have been leading this event since our very first year back in 1997, so it must be fun, no? Give it a try…
The Best Time Wine & Coffee Bar Close your Camp day by relaxing with fellow Campers and enjoying a glass (or two) of wine, a few beers, or a cup of fresh-brewed coffee (which you can sweeten up with a selection of delicious flavored syrups) at our late-night wine bar/coffee house. Hang out by the fireplace, congregate with friends under the stars at a picnic table, or break out the backgammon board: it's all up to you. A perfect way to end a perfect Camp day!
'Camp' Camp Dance Dance Go out on a high note at the last official 'Camp' Camp event of the season. The Camp DJ will be spinning an awesome selection of tunes certain to be the cure for the last bit of your Camp boogie fever!
Campfires Drop by the ol' campfire and share s'mores, camaraderie, jokes, ghost stories, and more!
Christmas Bingo Chill out with your fellow Campers and enjoy a little Christmas in August! Join Angela, Camp's resident bingo hostess-with-the-mostess, for a Christmas-themed evening of high-energy, super-bingo fun with great prizes – and (no doubt) a few surprises, too!
The Game of Shows What happens when classic TV game shows meet today's shiny-floor reality games? Camp's very own The Game of Shows, that's what! Join your fellow Campers for an evening of fun, laughter & prizes that requires skill & knowledge – and maybe a little bit of nerve – as Camp versions of your favorite game shows are played by individuals, Rainbow Groups, and even cabins. One lucky winner will walk away with a gift certificate good for half off of their Registration Fees for next summer's session of 'Camp' Camp, but only if they manage to stay away from the zingers! …Come on down!!
Karaoke Lounge We're firing up the karaoke machine and letting everyone tap into their inner Diva! Karaoke at Camp is always full of fun and surprises, so even if you aren't one to grab a mic and hop on stage, you still won't want to miss this perennial Camp favorite.
Last Camper Standing Who knew "Licking for It" and a little "Hanky Panky" could bring not only satisfaction, but prizes and laughter, too? Join your fellow Campers for this crazy/fun evening where anyone who chooses to can show off their skills and swagger in a series of short, silly games – and where everyone is guaranteed a hilariously good time. With lots of ways to join in the fun, you'll definitely want to be there for all the laughter and excitement when just one Camper emerges the eventual victor. …Why, it just might be you!
Lip-Sync Throwdown Join your fellow Campers for an evening inspired by Jimmy Fallon's celebrity lip-sync battles on The Tonight Show – with a little RuPaul's Drag Race thrown in for good measure. That's right, come show off your wicked lip-sync skills on stage (or watch as your fellow Campers do so) before a panel of distinguished Camp judges that will be choosing four finalists who will be lip-syncing for their lives – and a ton of renown, glamour, and a fun prize package – after dinner at Tea Dance on Thursday!
Movies Enjoy 'Camp' Camp's own ongoing film festival, complete with fresh popcorn! Bring a sleeping bag & pillow if desired, and join some of your fellow Campers for open-air viewing of some celluloid favorites both old & new. Past screenings have included such films as "Mildred Pierce", "Thelma & Louise", "Bridesmaids", "Singin' in the Rain", "All About Eve", "Mommie Dearest", "Trick", "Into the Woods", "Bound", "All About My Mother", "Hairspray", "What's Up, Doc?" and "The Rocky Horror Picture Show."
Pajama Par-tay! The Lodge will be buzzing with a whole selection of "sleepover"-inspired activities, promising fun for every taste: cards & board games, facials, fingernail painting, tarot card readings – or be really brave and join in a good ol' fashioned game of Twister!
The Rainbow Challenge Join members of your Rainbow Group for a competition of wits, speed & gumption as you solve puzzles and find clues throughout the camp. Part group theatre, part treasure hunt – and completely super fun.
Roman Carnival Friends, Romans, Campers: it's time for… TOGA! Join us for a variety of fun carnival-style games and prizes, crafts, individual and group activities, and a decadent dessert feast – all set in the world of ancient Rome and Mount Olympus! Wander at your own pace, trying out whatever pleases you, or just take in the Bacchanalian splendor of it all. Come dressed as the Roman citizen or mythological being of your choice, bring a bed sheet for a makeshift toga, or just come as you are. A good time will be had by all!
Talent/No Talent Show "Curtain up! Light the lights! You've got nothing to hit but the heights!" Get your best performance together – be it musical, dramatic or any other amazing talent/no talent – and prepare to dazzle your fellow Campers with your spectacular skills in this ever-popular, traditional – yet distinctly 'Camp' Camp – event.
Tea Dance Grab the spotlight (and the dance floor) at this fiesta of energy & excess. The experience begins with a parade of buxom & bearded beauties and costumed characters where you can pose for the paparazzi or strut your stuff on the red carpet. Then, let your boogie fever overtake you and do as Lady Gaga recommends: just dance! We'll take a break for dinner – then dance some more 'til y'all break a (high) heel!